About Me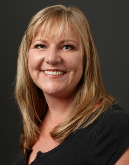 Maria Jensen began her real estate career in 2010 and has since become a very successful Realtor®. She was born and raised in Europe but has spent the last 25 years living in the Bay Area.
Maria spent twenty years in customer service working with people from all over the world. This experience has given her great communication skills and molded her into a person that has a knack for anticipating and meeting client needs. After living in Vallejo for a number of years, Maria and her family relocated to Benicia. Her children are thriving in the Benicia school system and they all enjoy the family friendly Main Street Community.
Maria has experience in all aspects of real estate and enjoys working with both buyers and sellers. Taking care of her clients' needs is her top priory and she prides herself on her ability to work effectively with all parties involved in a real estate transaction.
The trust she had earned from all of the people she has worked with has resulted in a significant portion of Maria's business coming from referrals from both satisfied clients and business associates alike.
Maria is passionate about her job and feels honored to help all parties involved reach their ultimate goal.
"A positive attitude can overcome a negative situation." ~Maria